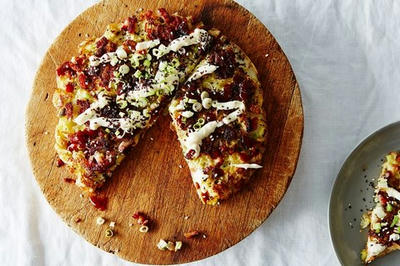 You can find dashi powder, tenkasu, and the condiments for serving at your local Japanese market, or in the Asian foods section of the grocery store. Additionally, some markets carry special okonomiyaki flour, which includes flavorings and a little yam starch to give the pancake a spongier consistency; if you use this specialized flour, only add the water per the recipe below, and skip the dashi stock powder.
Makes 1 big pancake, large enough to split
For pancake
apartments for rent
:
1/3 teaspoon dashi stock powder
2/3 cup water
1/2 cup all-purpose flour
1 egg
3 tablespoons tenkasu (tempura bits)
2 cups cabbage, chopped into thin strips
1/3 cup chopped green onions
3/4 strips bacon, chopped into 2 to 3 inch-long pieces
For serving:
Kewpie mayo (regular works fine too!)
Okonomi sauce (or a homemade version: 3 tablespoons ketchup plus 1 tablespoon Worcestershire sauce plus 1 teaspoon soy sauce plus 1/2 teaspoon honey)
Aonori (seaweed flakes)
Sesame seeds
In a large bowl, mix the dashi stock powder into the water until it dissolves. Whisk in the flour, egg, and tenkasu to make a batter
reenex
.
Add in the cabbage and most of the green onion (reserving a pinch). Fold into the batter until combined.
Heat a large greased pan over medium-high. Dump the cabbage batter into the pan; using a small spatula, flatten batter top and edges into a round pancake about 1/2- to 3/4-inch thick. I've found that the less craggy the edges of the pancake, the easier it is to flip
reenex
.
Cover the top of the pancake with the bacon pieces in a single layer. Cook pancake this way for 3 to 4 minutes, then flip—using a big-old flat spatula—so the bacon-side is down. Cook until bacon has crisped, about 5 minutes, and then flip again to cook for an additional 3 to 4 minutes, bacon side up.
Slide pancake onto a large plate. If your mayonnaise and okonomi sauce aren't in squeeze bottles, scoop a spoonful of each into a bottom corner of separate plastic bags. Snip the corner with scissors to allow for precision-squirting. Zig-zag the okonomi sauce over the top in one direction, and the Kewpie (or regular) mayo in the other. Sprinkle remaining green onions, aonori, and sesame seeds over the sauces.
PR