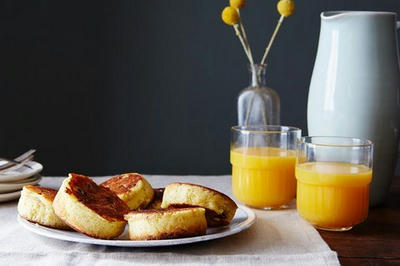 These pancakes, adapted from Tim Byres of Smoke Restaurant in Dallas are so tall they'll make ordinary pancakes look like they're standing on their tippy toes. They're so pillowy that I not only dream of them but on them. They're so crispy that you'll actually use that knife on your table. The entire top and bottom of these pancakes is what the edges of the standard sort might look like—if you're lucky (and it's your birthday, and you're having a good hair day). (less) - Sarah Jampel
Serves 6 to 8
2 cups all-purpose flour
2 tablespoons baking powder
2 teaspoons baking soda
1 teaspoon salt
1/3 cup sugar
1/2 cup (1 stick) butter, melted, plus more for the griddle
1 cup buttermilk
2 eggs
1/2 cup full-fat ricotta
Zest of 1/2 an orange
4 tablespoons fig jam
1/2 cup roughly chopped dried figs
Preheat the oven to 350° F.
In a medium bowl, stir together the dry ingredients (flour through sugar).
Gradually stir in the butter until you have a mixture with pebble-sized clumps.
Add the buttermilk, mix to combine, then add the eggs, one at a time, mixing a little after each addition.
Gently fold the ricotta, orange zest, and fig jam into the batter.
Set a large, oven-safe griddle or cast-iron skillet over medium heat. When it's hot enough that a drop of water flicked onto the surface sizzles, add enough butter to grease the bottom of the pan.
Thoroughly grease the insides of 4 egg rings (or however many fit on the griddle) and place them on the hot pan. Place the rings on the pan for a minute or so in order to get them very hot. Fill the rings halfway (any higher and the pancakes might explode!) with batter, sprinkling a few dried fig pieces over top of each.
Transfer the hot skillet from the stove to the oven and bake the pancakes for 5 to 7 minutes so that the sides set and the top is bubbling. Be patient: You want the sides of the batter to become firm like cake so that the top will not ooze over the sides when you remove the ring. Once you think you've reached that stage, remove the pan from the oven and return it to the stove over medium heat. Working with one pancake at a time, remove each egg ring and flip the pancake. Work very carefully. Cook for 3 to 4 more minutes on the other side.
Repeat with the remaining batter and the rest of the fig pieces, keeping the finished pancakes warm in a low temperature oven.
PR