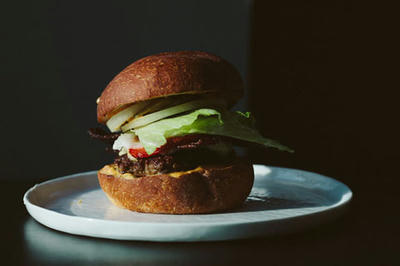 One of the most common questions asked to those of us who love food is, "What would you choose for your last meal?" My answer is always the same: a classic cheeseburger, crisp fries, and a bittersweet chocolate shake. So you can imagine that when it comes to a classic cheeseburger, I have opinions—strong ones
Business Centre in Hong Kong
, in fact. But sometimes strong opinions lead to a pretty near-perfect classic cheeseburger. (less) - Ashley Rodriguez
Makes 4
For the patties and to build the completed burger:
Cheese mixture, see below
8 tablespoons (1 stick) cold unsalted butter, divided
1 pound 12 ounces ground beef (15 to 20% fat)
2 1/2 teaspoons kosher salt
1 teaspoon freshly ground pepper
4 soft burger buns
Special sauce (see below)
4 small, inner iceberg lettuce leaves
4 tomato slices (fresh or roasted)
crisp bacon slices, for topping
4 yellow onion slices
thinly sliced dill pickles, for topping
Start by making the cheese mixture (see below for instructions).
Grate 4 tablespoons of the cold butter and, in a large bowl, gently combine it with the beef, salt, and pepper. Refrigerate for at least one hour or overnight
19 LED Light Bulb
.
When you are ready to cook your burgers, form the patties by gently gathering 4 ounces of beef into a ball and pressing it to create a patty. Sear the patties in a screaming hot cast-iron skillet for 3 minutes on one side. Flip, then continue to cook for 1 minute more before spooning a bit of the cheese mixture (see below for instructions) on top of the patty (or laying a slice of cheese if that is what you are using). Continue to cook for 1 to 2 minutes more, until the cheese is soft and the patty is cooked through. Set the patties aside to rest for a few minutes before building your burger.
Note: For medium-rare, cook the burger to 130° F to 135° F; medium 140° F to 145° F; medium-well 150° F to 155° F; and well-done 160° F or higher.
While the pan that you just cooked your burger in is still hot, add the rest of the butter and let it melt. Place four of the bun halves in the pan and toast until golden and crisp. Repeat until all the buns are toasted
Cloud Video Conferencing
.
Build your burger by slathering special sauce on BOTH sides of the bun. Add the patty and lettuce, tomatoes, bacon, onion, and LOTS of pickles. Top with the other crisped and sauce-smeared bun.
For the cheese and special sauce:
8 ounces cheese (I use a mix of Beecher's Sharp Cheddar and Fontina), cut into 1-inch chunks
1/4 cup plus 1/3 cup mayonnaise, divided
2 tablespoons dill relish
2 teaspoons yellow mustard
1 garlic clove
2 tablespoons ketchup
1/2 teaspoon soy sauce
1/2 teaspoon honey
Combine the cheese and 1/4 cup mayonnaise in the bowl of a food processor and process until the cheese is cut up into tiny bits and the mixture is quite creamy. Refrigerate until ready to use. This mixture will keep for up to 2 weeks stored in an airtight container and refrigerated.
Whisk the remaining 1/3 cup mayonnaise with the remaining ingredients (dill relish through honey). The burger sauce can be made up to 1 week in advance and stored, covered, in the refrigerator.
PR