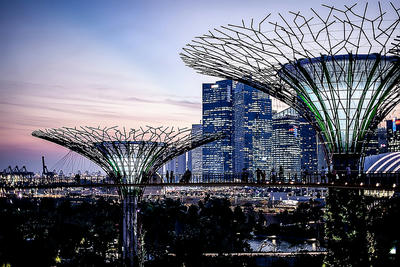 On the non edible side of the country, we also visited the S.E.A Aquarium (which was amazing, but made Audra hungry for seafood), and the alien landscape that is the Super tree grove in the Gardens by the Bay. The one certain thing about Singapore is that it is constantly reinventing itself. For an island state that turned itself from a collection of sleepy fishing villages to a global financial power player inside of one generation is astounding. That it continues to morph and grow and adapt is certainly no surprise
Hong Kong Macau Tour
.
That does make it pretty tricky at times to find the real Singapore, which for me is tucked away in the back streets and hawker stalls
Loop HK
, on the ground floor of the not so trendy shopping centres, and anywhere the smell of durian and charcoal mix together and linger in the humid night air.
In case it wasn't obvious at the top of the post, here it is again at the bottom. This trip and tour was made possible by the Singapore Tourism Board and was a part of their Celebrity Concierge program where you can take part of a unique service that pairs you with a celebrity with local knowledge of Singapore to help plan your trip. Go check out the site and see if you too can be a winner.
Thanks again to Audra and her excellent advice, and to the lovely people at Singapore Tourism Board (and the fearless Larissa) for giving this glutton another 50 reasons to love this country. If you haven't been yet, I'm not sure how much I can stress this… go
red wine
.
PR